History of Congregation
The congregation was established in 1932, due to the untiring efforts of Brother J. D. Jones, a gospel minister, Mr. Shelah Pitts and Mrs. Hattie Muncy. The small group of Christians met in the old Leoni School house, with Bro. Jones delivering the first gospel sermon. The congregation grew under the eldership of Bro. Shelah Pitts, Bro. Delter Tenpenny, Bro. Charlie Parton and Bro. Walter Melton.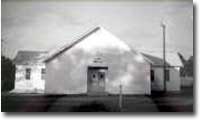 The need for a church building arose, and Arthur and Hallie Stewart donated the land for the building and the cemetery lot. The church building was constructed in 1939, using materials which had been the old Leoni school building.
The Church continued to meet in the building for the next 31 years, moving into the current location in April, 1970. More land was purchased from Grady George for the building parking area, as well as additional land for the Leoni cemetery. In 1949, the first classrooms were built, and as the congregation grew in number, three more classrooms and a baptistery were added to the building. A minister's home was built nearby the area of the church building.
Among those who have served in the Eldership of the Leoni congregation in the past were Delter Tenpenny, Charlie Parton, Shelah Pitts, Walter Melton, Leonard Parton, E. T. Brazzell, J. L. Parton, Jr., Kenneth Muncy, Robert Ford, Albert Campbell, Bill Weaver & Ernest "Butch" Young.
The current group of Elders is comprised of Perry Campbell, David George, Ronnie Hall and Hal Champion.
Among those who have served as Leoni's Deacons in the past have been Taylor Lance, Kenneth Muncy, Morgan Todd, Lee Lance, J. L. Parton, Jr., Jerrell Prater, Edmund Prater, Hoyte "Jake" Davis, Charlie Pitts, Max Campbell, Perry Campbell, Terry Lester, Ernest "Butch" Young, Gary Johnson, Gayle Rains, Clarence McGee, Charles Markum, Ronnie Hall and David George.
Our current group of Deacons are Harry Lee Barnes and Robert Pitts.
Our past full-time ministers include: Lynwood Mathis, Lemuel Underhill, Jack Reed, Earl Sutton, Clifton Doty, L. T. McCord, John M. Grubb, Landon Hatley, Dan Winkler, Norman Pelham, David Musgrave, Clarence McGee, and James Boyd. Our current preacher is Garland M. Robinson.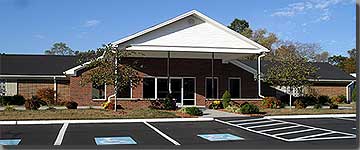 Construction of our current facilities began on
August 4, 1969 by Harold Laws, General Contractor, in conjunction with a building committee of Hershel Parton, Dwain Griffith, Monte Hutchins & Jerrell Prater.
Bro. Clifton Doty preached the first gospel sermon in the present building on Sunday, April 5, 1970. Beginning in the Fall of 1995, construction of additional classrooms and a fellowship room began. The project was completed in May, 1996. The building of a new entrance foyer, which provided additional office space, was completed in June, 2006.
The congregation continues in its efforts to faithfully serve The Lord through Bible classes for all ages, worship services on Sunday morning and evening, and Wednesday night. We are blessed with energetic, well studied teachers for our classes, and we're blessed to have several talented men to direct the congregational singing for our Worship services, including Ronnie Hall and Micheal George.